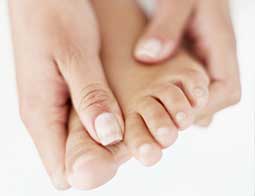 Suffering from painful bunions and misshapen feet?
We are a group of expert surgeons who specialise in the treatment of bunions and offer the full range of surgical and non-surgical treatments.
Bunion Correction Package
We offer a unique Bunion Correction Package from £5,635 to include the operation by one of our specialist consultant surgeons and all post operative care.
Don't take our word for it – read our patients' stories about their bunion treatments.
We provide a patient's perspective on a wide range of different bunion treatments.
The Bunion Treatment Centre
The Bunion Treatment Centre is part of The London Foot & Ankle Centre (LFAC), and with over 15 years experience of treating bunions, we can advise you on the best course of treatment to eradicate pain and restore normality to misshapen feet and toes.
The Bunion Treatment Centre offers an integrated, multi-disciplinary approach, with specialist foot and ankle surgeons working closely with podiatrists and physiotherapists to achieve an optimal recovery solution for the patient.
Historically, bunion surgery had a reputation for being very painful, LFAC however, are able to offer more modern types of surgery which are more sophisticated and less invasive. For each patient undergoing bunion surgery, there will be an optimal procedure based on the extent of the deformity. Our mission is always to restore you to full mobility safely.
Based in London at the independent Hospital of St John & St Elizabeth in St John's Wood (only 8 minutes by tube from Bond Street and 15 minutes from Waterloo), we can offer state-of-the-art medical facilities in a friendly, caring environment.
Our Patients
We are proud of the treatment and care that we give our patients and very pleased to share the testimonials that we have received from patients who have experienced bunion surgery.
The testimonials provide a detailed and informative insight into the experience of the surgery including the recovery time and the final results.
Bunion Treatment and Care Packages
Our unique package offers the patient total peace of mind. Safe in the hands of caring experts, with the assurance of a fixed price package designed to achieve optimal recovery and pain eradication.
Initial Consultation with x-ray for £430
What's included?
Our initial consultation fee is £275 and includes a full consultation and assessment by one of our Consultant Orthopaedic Foot and Ankle Surgeons.  You will also require an X-ray at the hospital – the current prices for these are £155 for one foot and £250 for both feet.
Following initial consultation and X-ray your consultant will advise you on the best course of treatment for your bunions.  If surgery is recommended you can book this with the Bunion Correction Package.
Whilst our focus is always on providing a solution that is the least intrusive and provides the best results, in some cases, bunion surgery is the only solution to correct the deformity of hallux valgus and restore normality to the big toe.
For these cases, we have teamed up with the Hospital of St. John & St. Elizabeth to offer a fixed price surgical package for the correction of bunions – the Bunion Correction Package.
This package includes the operation and post operative care, including three follow-up consultations and post operative x-rays, crutches and post-operative shoes.  It also includes an overnight stay in the hospital following the operation if this is medically required, although most procedures are offered as a day case.
This package is only available on a 'self-pay' basis. If you have private medical insurance we can provide a price for you for your specific policy.

Bunion Surgery
Our package price covers the standard costs that most patients require when undergoing this procedure.
Bunion Surgery Package
One Foot (Unilateral)
Bunion Surgery Package
Two Feet (Bilateral)
Correct as of 31st August  2021
What is included?
Theatre procedure, including specialist equipment.
Consultant surgical and anaesthetist fees.
Inpatient and nursing care plus overnight accommodation in the hospital, if medically required, including meals.
Post-operation physiotherapy session as an inpatient at the hospital
Crutches and post-operative surgical shoe.
Three post-operative follow up appointments with your consultant, including a plain film 3-view x-ray at 6-weeks.
Considerations
In some cases, you may be advised by your Consultant that you need additional investigations over and above the bunion correction, pre-assessment, or an extra nights stay in the hospital, which will incur additional charges. Our Admissions Team will advise you of any revisions to your quote in advance. Additionally, the Consultant may decide that a patient is unsuitable for bunion correction surgery. Should this arise, alternative treatments will be discussed.
Terms & Conditions for the bunion correction fixed price package
The package price includes all of the items detailed above in 'What is included?'.
The package price covers the treatment or condition for which you are originally admitted and related complications only.
If your consultant requests a preoperative assessment due to pre-existing or potential medical conditions there will be an additional charge for this.
Should you be found, at either pre-operative assessment, or on admission, to have a pre-existing condition which requires additional treatment and/or extra overnight stays in hospital, this will be discussed with you by your Consultant. Under these circumstances, a treatment package may not be the most appropriate option for you, and we will discuss other options.
No refund will be given if you do not remain in the hospital overnight or if any elements of the care are not used.
The Bunion Treatment Centre request that the package price is paid in full at least 7 days prior to your admission to hospital. Payment can be made by cash, credit card or personal cheque directly to the Hospital. Cheques must be received at least 5 banking days prior to admission.
Please contact us on 0207 078 3800 for more information and to book an appointment
The term 'bunion' refers to a swelling on the side of the big toe joint, a condition which occurs when the big toe leans too much into the second toe. The medical term for this condition is hallux valgus. As the swelling is prominent, this area is prone to rubbing from shoes, causing inflammation, redness and pain.
Bunion surgery is the only way to physically correct the deformity of hallux valgus and restore "normality" to the big toe, not only in terms of appearances but also in terms of function.
Longest established specialist team
Our consultants are not only experts in the field of foot and ankle treatment but pioneer industry standards. Advocates for excellence within the industry, LFAC's consultants are widely published and active in research. They also hold senior posts within professional bodies and training rotations to ensure that the high standards at the clinic are transferred to other hospitals.