It is six months ago that the medical world was turned upside down and surgeons took off their surgical gloves not knowing when they would be able to adorn them again. None of us realised the impact this would have on all medical and surgical work at the time but it slowly dawned on us that normality as we knew it was a thing of the past. It is now two months since my first post lockdown surgery was performed and it was a good feeling being back in the theatre environment doing what I had taken for granted for the last 30 years. The precautions we have to follow make the whole process much slower but everyone has adapted and the patients have been understanding and patient.
Clinics have been building up and we have seen a surge in activity recently. The NHS has now terminated its contract with St John & St Elizabeth Hospital as of September 7th and this means that access to all facilities is much improved. So, as autumn approaches, we are running a service not dissimilar to pre Covid days.
What has amazed me is the significant number of people who refuse to wear masks, keep social distance and fulfill their civic duty to follow the rules. In the clinics and hospitals we ask patients to attend alone, observe social distancing and wear a mask. Despite the simplicity of these requests a number of patients choose to ignore them. I hope for everyone's sake that enough of us follow the rules to prevent a second spike and that we at the London Foot & Ankle Centre can continue to offer the high standard of care to patients that we have done since its inception in January 2003.
Keep well!
Mark Davies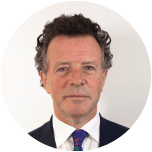 LFAC Consultant Mark Davies (Founder)
PS Please can I ask that you bear with us when making appointments as the remote phone system does mean that sometimes it takes longer to get through to one of the secretaries…!