"We recognise that for patients who have endured months or years of heel pain, it is frustrating to go through a long process of waiting for scan results and another consultation before a decision is made. With a dedicated Heel Pain Clinic, we can eliminate unnecessary delays, provide a decision and start treatment during your first visit."
Matthew Solan, Consultant Orthopaedic Surgeon, London Foot and Ankle Centre
Consultation, imaging, and heel pain treatment plans in one visit. Treatment usually commences at this first visit.
X-Ray for heel pain treatment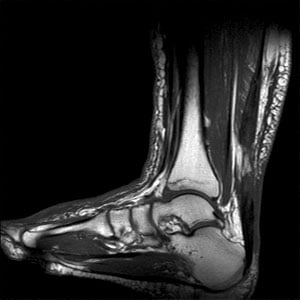 The London Foot and Ankle Centre is taking a new 'one-stop' approach to the treatment of heel pain. We have created a dedicated Heel Pain Clinic for the rapid assessment and effective treatment of this common problem.
The Heel Pain Clinic has been established to provide a comprehensive one-stop service. You will have your consultation, ultrasound scan, decision and very often, first treatment during your first visit to clinic.
The Heel Pain Clinic is designed for patients who have had heel pain for a period of months or years, have tried more conservative treatments, but have not found them to be effective. Early assessment is useful and ensures proper first-line treatments are employed. Advanced treatments are not usual until the symptoms are of six months duration.
What happens when I visit the Heel Pain Clinic?
These steps all take place during your first visit to the Heel Pain Clinic:
Step one
Consultation with Consultant Orthopaedic Surgeon Mr Matthew Solan, who has a special interest in the treatment of heel pain
Step two
Ultrasound scan with Radiologist Dr Andrew Carne, using the specialist Doppler scan, providing a detailed images, including assessment of blood flow in the affected area
Step three
Discussion with Mr Solan during or after the ultrasound scan. You will then be given a decision on recommended treatment options
Step four
If your recommended treatment is shockwave therapy or injections, your first treatment will take place, and appointments for any further treatments made. A much smaller number of people will be recommended for surgical calf stretching. This type of heel pain treatment is a day-case surgical procedure (under local anaesthetic and sedation) and will need to be booked on a different day.
The Heel Pain Clinic takes place on Tuesday afternoons every fortnight. Please contact us for details of the next available clinic.